💁Implement MaintMaster with us
We have delivered over 500 successful customer projects around the world. This experience has evolved over the years into our 'all you need' project packages.
Choose from small, medium or large, depending on your current situation and ambitions. The packages include everything you need to get your system and organisation up and running.
Your key users will also learn how to improve your system over time, extend its use to different areas and adapt it to new conditions. Over time, there will be no need for consultants.
Implement MaintMaster in seven steps
At MaintMaster we believe that maintenance can make a difference to productivity, sustainability and safety. To realise these opportunities, we want you to be in control of your tool and therefore your business.

Our implementation projects are all about putting you in control of your maintenance system.
For this, we use seven steps of "training the trainer", and you are up and running already after step one.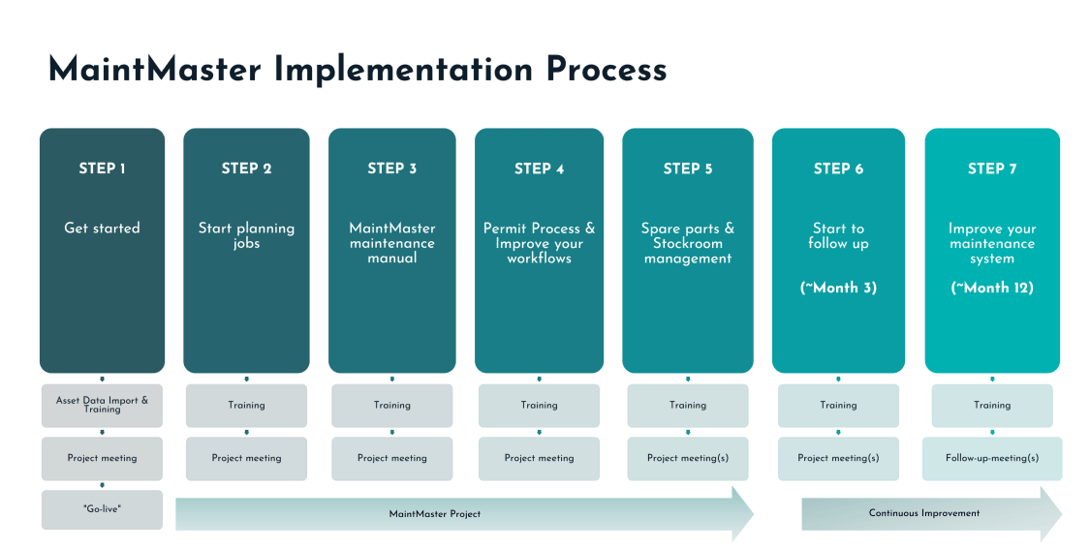 This is what you get
DEDICATED PROJECT MANAGER
When ordering an implementation project from MaintMaster, you get a dedicated project manager who will be your guide through all seven steps.
TRAINING SESSIONS
It all starts with booking your training sessions. Typically, there's a new training session every other week, followed by a project meeting, either on-site or via web meeting. Small and medium implementation projects include training for two dedicated people, while large projects include two seats per training session for one year (from the first training).
TRAIN THE TRAINER
We recommend that your local implementation team consist of at least two people. In addition to training and project meetings, your team should expect to spend about 10% of their time on the first part of the project (up to step 4).
MaintMaster Academy
With MaintMaster's Academy, we make sure that all the training you need is available when you need it, in person or online.
Learn more about MaintMaster Academy

What's included?
IMPLEMENTATION PACKAGE SMALL

We implement according to the European maintenance standard.

It is the best choice if you have no system today or you don't have a structured way of working as of now, and you want a quick start with a huge improvement in a very short time.

Timeframe: 4-8 Weeks

Training Participants: 2

Price: 11.400€

IMPLEMENTATION PACKAGE MEDIUM

We implement according to the European maintenance standard and we customise settings, process support and KPIs to adapt the system to your needs.

It's the best choice if you already have a structured way of working or if you want to. You want to optimise and improve your maintenance work by taking advantage of statistics, customised KPIs and reports.

Timeframe: 5-9 Weeks

Training Participants: 2

Price: 21.500€

IMPLEMENTATION PACKAGE LARGE

Your vision will be applied in practice. We will chart your processes and adopt the system to match your needs. The European maintenance standard is our guideline.

The best choice for you has high ambitions or very special needs. You want help to optimize your processes and the CMMS to adapt to you.

Timeframe: 6-10 Weeks

Training Participants: Unlimited

Price: 34.900€
Here's a detailed overview of the seven steps