TECHNICAL

WHITE PAPER

MaintMaster understands that to realize the benefits of the cloud, you must be able to trust the cloud. So do our hosting partner, Microsoft. Microsoft Azure offers the most secure and trusted platform for cloud services.

It covers most of the technical aspects of MaintMaster, from a schematic overview to how to handle virtual environments. Everything about security, network, apps, installations, terminal server and the platform from Microsoft Azure is found here.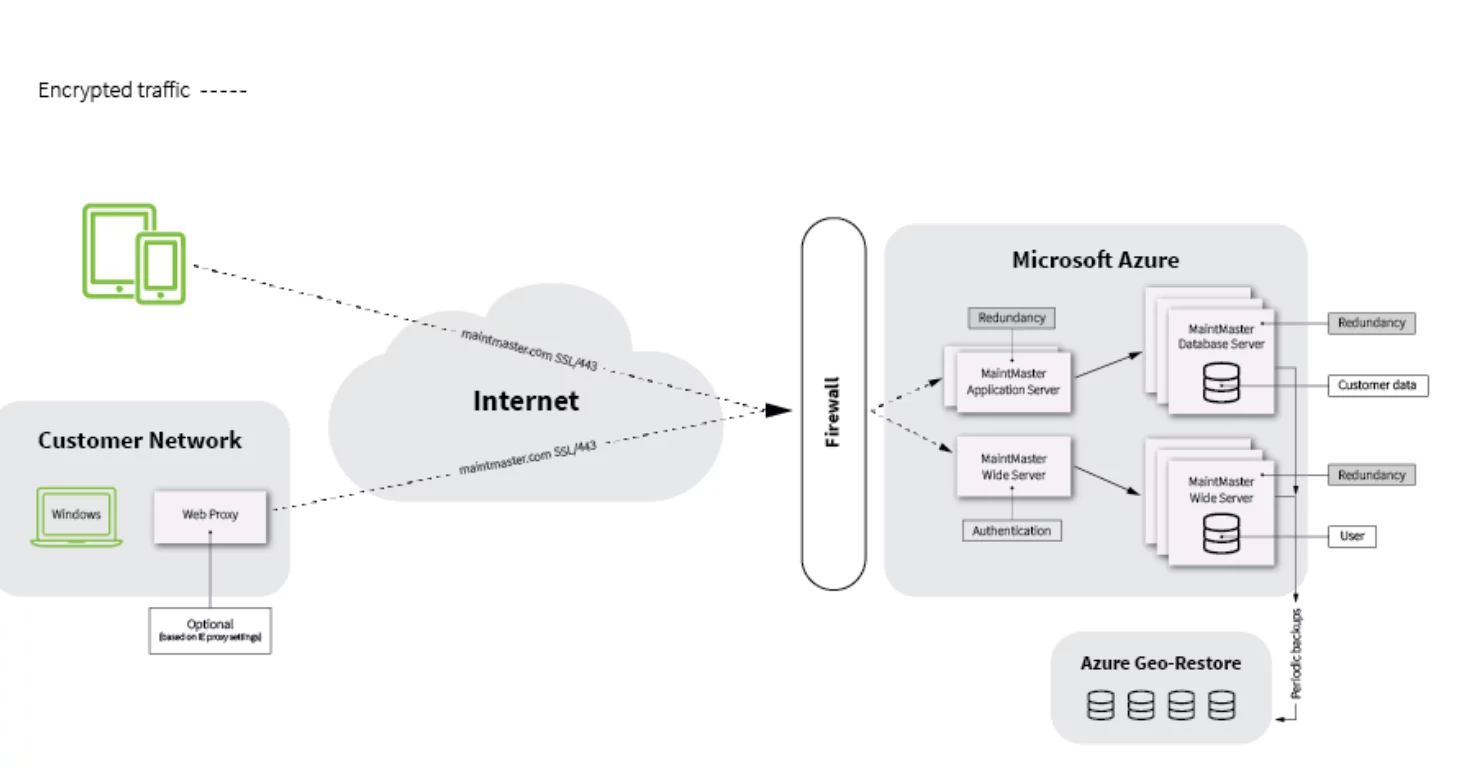 RELEASE NOTES
Do you want to know more about the latest release? Then you have come to the right place.
Some of the new features that might be included in a release could include improvements to performance, new tools for better data analysis, or new ways to customize the software to better fit a user's specific needs. The list is a valuable resource for users who want to stay up-to-date with the latest advancements in the software and make the most of the new features.
DATABASE GUIDELINES
This is a guide on how to build a new database in MaintMaster, and it advises reading the entire document before starting. It's a guideline to avoid pitfalls and take advantage of the system's powerful features.
These are guidelines on how to prepare or build a new database in MaintMaster. Read the entire document before beginning. This should not be regarded as full instruction but only a guideline to avoid pitfalls and to take advantage of some powerful features of the system. We're constantly evolving. Any specification may be altered at any time.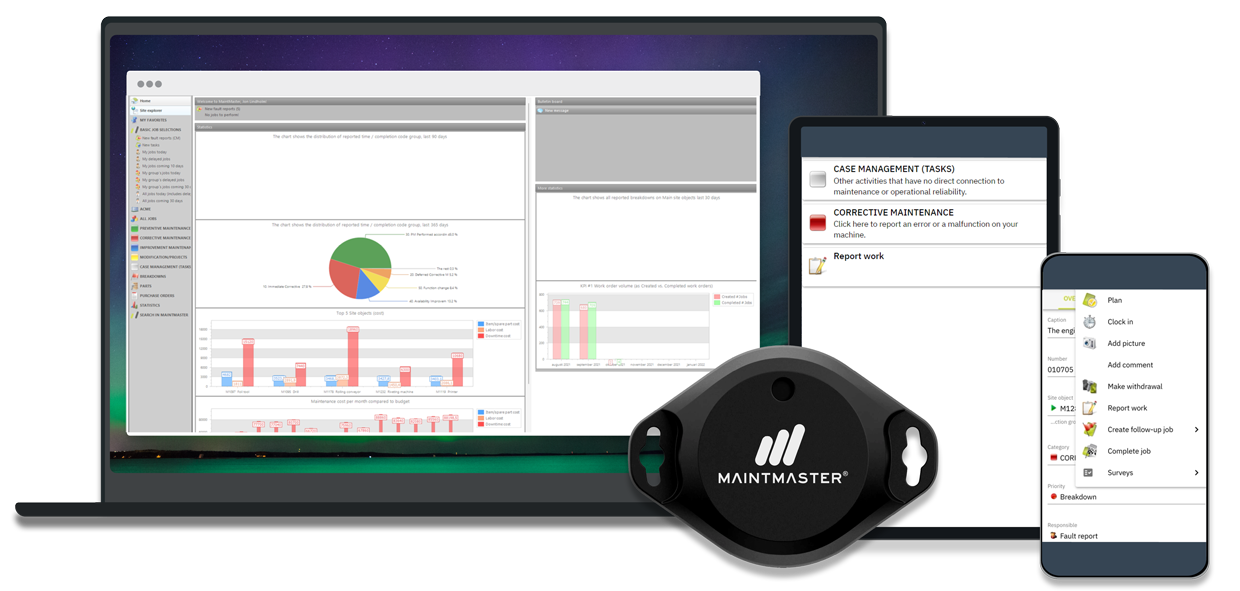 WHAT IS
MAINTMASTER?
MaintMaster is a software that helps you manage all aspects of maintenance for your entire site, including machines, buildings, equipment, and departments.
The 101 on MaintMaster You have a production facility such as a factory, plant or some other technical equipment that you rely on to manufacture, refine or add value to some goods. You depend on the ability to produce. MaintMaster helps you achieve a reliable, predictable production capacity. It's like the service book of your machines, only in a more convenient format with lots of possibilities to improve your business.
MAINTMASTER
AGREEMENTS EXPLAINED
Licenses and agreements can be a bit tricky. At MaintMaster, we understand this and have tried to make it as easy as possible. We also have flexible take on agreements to meet your requests. In this document, we explain your opportunities, our standard licenses and what's important to us.
This document not only highlights our very flexible approach to agreements but also explains our standard agreements. Even though it is not a legal document, it outlines all the parts we consider important when signing an agreement. We understand the business requirement to keep the number of contracts and agreements to a minimum and streamline processes for ease of follow-up. If you like MaintMaster and are ready to make a commitment, we are ready to discuss an agreement. Please don't hesitate to ask us anything about the content of this document.
MAINTMASTER
GENERAL ONLINE TERMS
These General Online Terms govern your usage of all MaintMaster online Services, all versions and all editions and set out obligations and responsibilities for the processing and security of your data, including personal data.
The MaintMaster General Online Terms is the general document governing the relationship between our customers and us, as a legal entity, in addition to the MaintMaster License and agreements.
These General Online Terms govern your usage of all MaintMaster online Services, all versions and all editions. These terms set out obligations and responsibilities to the processing and security of your data, including personal data. In addition to these terms, you need to obtain a license to use our Services. See the MaintMaster License. Using the Services will always imply you have a valid MaintMaster License.
END-USER TERMS OF SERVICE
All accounts have MaintMaster Agreements and a MaintMaster License governing the conditions of usage.
When you become a MaintMaster, a person using our service, we need you to accept our Terms of Service. Every end-user will be presented with these terms, so we are sure that you consent to save information about you in our cloud services. It also describes the relation to the issuer of your license, intellectual property rights and more.
By using our Services, you agree to these terms.
MAINTMASTER
PRIVACY POLICY
Our Privacy Policy outlines how we collect, use, and protect the information we gather. It also explains how you can access your information.
Your privacy is important to us. Our Privacy policy explains what information we collect, why we collect it and how we use that information. This policy governs all our services, not only the cloud service. In any contact with us, you can rest assured that we honour our policy.
What information we collect and why we collect it, how we use that information, how you can access your information and how we protect your information. The Privacy Policy applies to all information for which we are the data controller.
MaintMaster Security White Paper
This white paper gives a bird's eye perspective of the security aspects of the MaintMaster system, its deployment and, to some extent, how it is developed.
How to choose the right maintenance software
We know from experience that without a maintenance system that can adapt to your needs, there will be more headaches than it already is. That's why we have created the 7-steps process on how you choose the right CMMS system for your company. When you have switched to a CMMS system that fulfills your need, you will have a feeling of total control.