Tekniska Verken AB in Linköping collects and processes household waste on behalf of Linköping County. In addition to waste from neighboring areas, Tekniska Verken also sells its services to Norway and the UK. Waste is shipped to Norrköping and then driven by truck to the facilities in Linköping. In addition to waste management, Tekniska Verken also manages electricity networks, water and sewage, biogas, outdoor lighting, etc. They have used MaintMaster since 2016 and, together with a company from Germany that works in a similar business, we've visited one of their facilities in Linköping.
Meeting a reference to learn how MaintMaster works
GfA – Gemeinsames Kommunalunternehmen für Abfallwirtschaft from Germany, wanted to meet a reference, hence the visit. They simply wanted to know more about how MaintMaster works in practice and how a similar business works with maintenance. We started the day with a brief introduction at MaintMaster's head office, before visiting one of Tekniska Verkets facilities for a guided tour. In the afternoon, Magnus Strömgren, Business Developer at Tekniska Verken, demonstrated how MaintMaster is customized to suit their needs.
600,000 tons of waste pass through Gärstadverket each year
Approximately 600,000 tons of waste per year pass through Gärstadverket's boilers. The facility is located right by the E4 highway and it is the largest facility in Linköping, operating 24 houruced depends on many things, one of these is the outdoor temperature. 18-20 degrees is the temperature when the least energy is produced. When the temperature drops, more energy is required for heating and when it rises, more is required for cooling.
The core of the business is the control room
The control room was our longest stop on the tour and the reason was quite simple, it's cool to see the core of the business. Everything from how the staff helps technicians out in the site, to the desktops' functions, where you can angle screens, raise and lower them etc., is inspiring.
"You say you'll take a short swing through the control room, but it always ends up with you getting stuck for at least an hour," says Magnus Strömgren.
In the room, there's always a group manager, deputy group manager and 2–3 operators. The group manager is responsible for the work environment and environmental emissions. Operators monitor and assist engineers in place. All those working in the control room have experience of working as a technician on the site, which makes their support more qualitative. The shifts rotate between different tasks, such as monitoring and supporting from the control room, conducting inspection rounds and operating the cranes used to mix the waste to keep the right temperature.
Long-term comprehensive solutions
Tekniska Verken strives to create comprehensive solutions that have a long-term benefit for society, the environment and the economy, with the least possible burden on the environment. Their vision of creating the world's most resource-efficient region guides the work's progress every day.
– Read more about the Technical Works in Linköping here: Tekniska Verken
Thanks Tekniska Verken and GfA for an inspiring day togheter with us!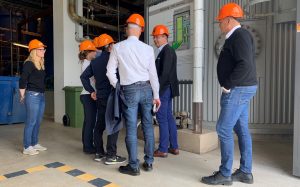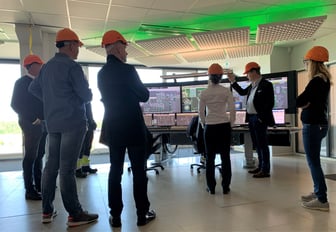 Would you also like to meet a reference?
Contact anyone in our Sales team or send and email to sales@maintmaster.com, and they'll help you.