It is well-known that the automotive industry has very high requirements for quality and process safety. This applies to the entire supply chain, from raw material suppliers to OEMs (Original Equipment Manufacturers). IATF 16949 is the standard to ensure consistent quality within the supply chain.
In maintenance, you will also be audited in the case of an IATF audit. At MaintMaster, we have ensured that many audit-relevant points can be easily presented with our software. Our topic today is the identification of strategically important equipment and machinery.
In every manufacturing facility, there are various types of machinery and equipment that are process-relevant. Some processes can be performed by multiple machines, while others can only be done by a specific piece of equipment. The equipment that cannot be substituted or that jeopardizes the continuous production in case of downtime – those are strategically important assets. It is crucial to identify these strategic assets and always prioritize them in your maintenance activities. Knowing the priority of each machine in your facility is not only relevant for your daily work but also for an upcoming IATF audit.
At MaintMaster, we have a simple and pragmatic solution to prioritize machines and equipment. All maintenance-relevant assets are created as objects in our system. Each object contains all the important information, such as maintenance plans, costs, downtime, and many other details. Now, let's talk about the uniqueness of strategic assets: In MaintMaster, we have the ability to create "free fields" that you can define yourself.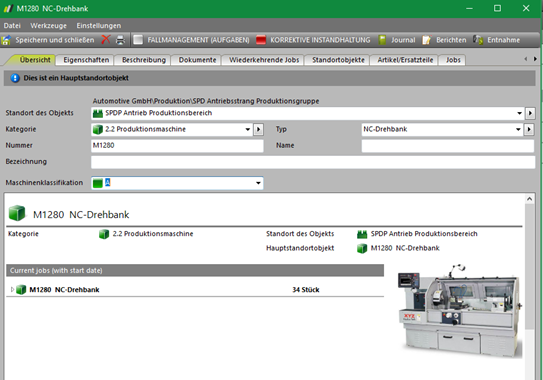 In this case, we have named the field "Machine Classification" and categorized machines as A, B, and C. Subsequently, you can evaluate all your objects and assign them to a machine class.
The result is a strategic assessment of your assets, which you can now filter and analyze based on machine classes. For example, you can display downtime only for machine class A.

If you have any further questions regarding MaintMaster in combination with IATF 16949, please feel free to contact us.
Best regards,
Your MaintMaster Systems