The principal goal of the maintenance organization is always to improve the availability. This means that the machines must continue to operate as expected during planned operations. To succeed, the maintenance organization requires a clear vision and strategy with established procedures and goals. Here, Mikael Andersson, Project Manager at MaintMaster, gives some tips on how to build up your work through the European standard EN 13306:2017 to ensure a stable and sustainable work approach to your maintenance organization.
Mikael began to work at MaintMaster in 2015 and has more than 15 years of experience as a Maintenance Manager and 15 years as a maintenance technician. Mikael joined us from Cloetta where he conducted a series of successful projects that resulted in a cut in maintenance costs reduction of 26 % and a drop-in emergency maintenance from 50 % to 18 %. Production volumes also grew over the same period with an increase of 27 %. According to Mikael one of the reasons for the success at Cloetta was that the work was designed based on a methodology and structure that complies with European standards for maintenance.
What does a standardized work method mean?
By working in compliance with a standard, you create opportunities to work in a structured and coherent manner. There are usually a variety of definitions and explanations for the various terms in maintenance, and explanations often vary with factors such as industry and level in the organization.
For a maintenance engineer who performs a practical maintenance task, the term maintenance may mean replacing a connection between the motor and pump, while for someone in management it may be associated with a tool to improve the quality of the yield, productivity, and profitability. To avoid misunderstandings, it is, therefore, useful to apply standard concepts.
The following standards for maintenance specify the general terms and definitions for the technology, administration and management areas within maintenance:
EN- 13306 Maintenance Terminology
EN- 13460 Documents for Maintenance
EN- 15341 Maintenance Key Performance Indicators
Start by generating a clear set of goals to improve the operational reliability of a facility, i.e. to operate as expected during planned operations, the organization needs to develop a clear vision of what it wants to achieve with its maintenance and formulate a strategy for how to get there. A maintenance vision must obviously support the company's overall vision and long-term goals that the organization needs to actively work towards as a way of ensuring greater operational reliability. Strategy is a plan for how the organization is to achieve this vision, while the policy is a statement of intent and a guideline to regulate decisions and achieve the desired goals.
"One example of a maintenance strategy could be to achieve more effective production through preventive and condition-based maintenance. It is important that as part of your daily work you also focus on long-term factors such as root cause analyses in corrective maintenance to eventually increase the planning level, thereby ensuring cost-effective maintenance."
Useful key performance indicators
For the effective management of maintenance operations, it is vital to measure what we do, how much we do, and how well we do it. For this to be possible, you will need to identify a few key performance indicators. The standard identifies 71 key performance indicators that are defined in three various categories: financial, technical, and organizational indicators.
The image below shows examples of some of the different key performance indicators that are available and the external and internal factors that have an impact on the performance of maintenance and thereby also the three key performance categories.
Once you have determined the key performance indicators you want to apply, it is important to use the indicators that add value to maintenance activities and demonstrate progress over time. Choose an overall key performance indicator for each of the following areas, financial, technical, and organizational, and indicators that all staff can relate to. Then expand the level of key performance indicators with time when you have achieved a solid foundation in your organization.
Implement European standards in the maintenance system. Once you have decided on your goals, strategies, and work approaches, it is important that the structure of the maintenance system follows the same common thread. Ensure that the names of categories observe the standard and that the site object structure in the CMMS is well structured. In doing so, you ensure that the work complies with the standard and you can quickly and easily monitor and evaluate your work.
Maintenance manual
MaintMaster has developed a manual for practical guidance and a helpful tool for your daily maintenance work.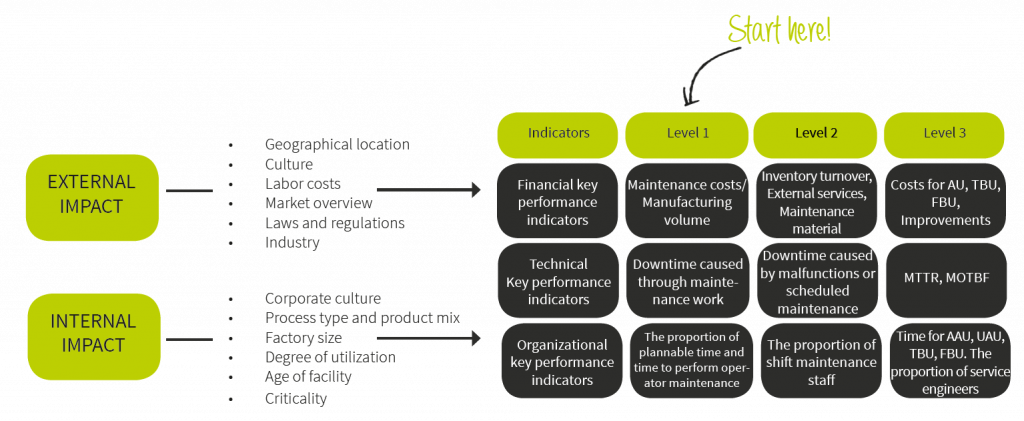 This is how you build sustainable maintenance work step by step:
Develop a clear vision and strategy for your work. What do you want to achieve and how do you plan to get there?
Create an organizational structure that supports your work towards the goal.
Decide on the key performance indicators you need to measure yourself against and perform continuous follow-ups of these.
Make an operational plan. Analyze and determine the changes required in your operations for short and long-term activities. It is important that the business plan complies with the company's overall goals.
Implement European standards in the maintenance system.