Many know that planning and structure help improve maintenance by optimizing costs, downtime, and more. Fewer do it completely – or lack the digital tools necessary to get the right maintenance overview.
International maintenance standards like EN-13306 maintenance terminology ensures everyone works the same and that you have reliable documentation and data for analysis. The concepts can be replicated and work internationally, meaning you can scale faster.
But what effects can implementation of a maintenance standard like this have?
This use case will show the journey from chaos to structure in a recognised food company. Here's what they accomplished by structuring their work to maintenance standards and implementing a new CMMS.
"Fix it after it breaks"
In 2010, a food and beverage company started a new maintenance organisation consisting of 36 technicians and managers, half newly hired. The company's traditional maintenance departments used Maximo CMMS from IBM, divided between electrical and mechanical maintenance groups.
There was also a division into maintenance groups between different production sections, which caused a high sub-optimisation of maintenance resources.

More than 60% of their reported time consisted of Immediate Corrective Maintenance. In other words, they mostly performed maintenance after a machine breakdown occurred — leading to difficulties in planning maintenance activities for preventive and improving maintenance.
The budget for all maintenance activities was owned and controlled by production, which meant they could prioritise maintenance activities differently. It also meant they could expense other non‑maintenance‑related measures as maintenance work.
They also had two groups, electrical and mechanical, on-call outside of normal working hours. The six technicians in each group received around 60 calls per month.
Things were stressful. And as a result, a bad mood overwhelmed, leading to talk behind each other's backs – internally in the maintenance organisation and between production and maintenance.
Transforming a maintenance organisation
Our team started with the implementation of MaintMaster's CMMS, including training sessions for 230 operators in production. They also started a new maintenance organisation based on the latest SS-EN 13306 standard. And to ensure that everyone onboard could understand and follow the maintenance standard all maintenance personnel were trained in the standard.
To help things further, they also implemented a Maintenance Manual and introduced job reporting in MaintMaster with categories and codes according to the EN-13306 standard.
On a structural level, a great change was transferring the budget ownership to the maintenance department – with maintenance accounts adopted to the standard.
Another important decision was that they changed working methods for planned activities so that they no longer planned large amounts of jobs for the summer and Christmas break like before. Instead, they started planning maintenance activities for recurring maintenance shutdowns throughout the year.
New for the better
MaintMaster also helped establish a new concept with new roles for technicians with line responsibility. The role is called Preparation Responsibility Technicians with more power and improved ownership. Furthermore, the team improved spare parts management and established an agreement with a key supplier for standard spare parts.
With the new CMMS, training in maintenance standards and Maintenance Manual to follow, the food company started focusing on what matters. And a direct response was outsourcing simple and mediocre tasks to focus on key competence tasks.
The new standards and ways to manage recurring preventive maintenance tasks in MaintMaster put them on the fast track to regaining structure and control. For example, implementing planned, frequent 8-hour maintenance pit stops for their critical machines helped ensure there were no operation-stopping surprises.
Here's the new structure MaintMaster introduced to the company: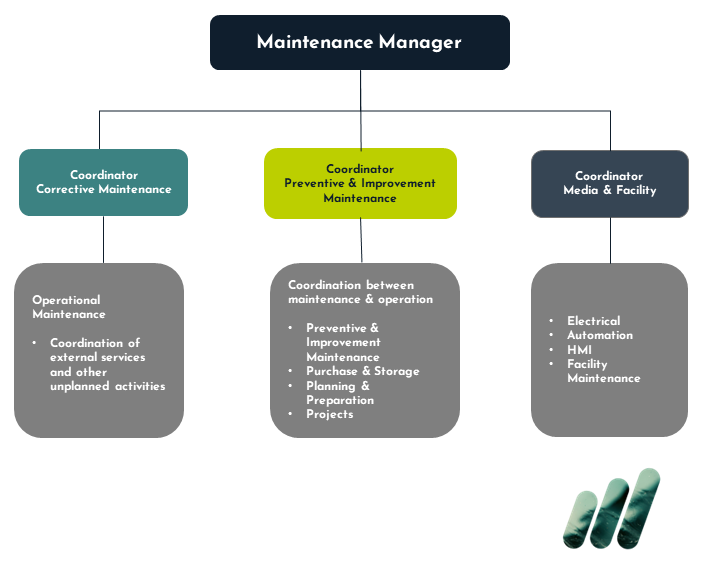 The most notable structural change is reducing the number of responsibilities. And with a more focused and purposeful maintenance organisation, it started functioning like a well-oiled machine.
They started working according to the 'Blue Box' concept, which means preparing jobs with instructions and all necessary spare parts in blue boxes for better work efficiency. And to get better access to future talent, they also collaborated with a local school to train new operators to become Technical Operators in production.
Overall, the transformation was huge – and so was the impact.
The results
The days of unplanned maintenance were almost over. Over five years, this company in the food and beverage industry saw a complete change in their maintenance organisation and adopted new work methods.
After applying our recommendations, including a shift to MaintMaster CMMS, the most significant results were:
Decreased immediate (unplanned) corrective maintenance from 60% to 18%
Reduced annual maintenance cost from 48 million to 35 million SEK (-26%)
Increased production volume from 16.5 million tons per year to 22.5 million (+27%)
Reduced technical downtime from 18% to 3%
The maintenance staff remained the same during the transformation at around 35 people. They reduced their planned production from five shifts with some overtime to three shifts with overtime.
With fewer machine problems, they went from two groups with 12 on-call technicians to one with eight technicians. The number of calls also decreased from around 60 per month to 20.
Overall, the positive difference in atmosphere and work situation was grand.
Both maintenance and machines started running smoothly, and the staff felt it. But there were still new opportunities to seize, like improving the relations between production and maintenance...
... but isn't that always the case?
Lessons to learn
Standards are critical for the food and beverage industry. With strict regulations and controls to ensure the products are safe to eat or drink, the smallest deviation can lead to contamination, potentially devastating public and economic effects.
The effects of deviating from maintenance standards can also be far-reaching. Most commonly, it shows as an overfocus on corrective maintenance – a fix what's already broken approach.
Strategy and planning according to maintenance standards will give you a positive impact. This story is just one of the companies in the food and beverage industry that saved millions annually, increased production volume and significantly reduced technical downtime.
But good practices need the right tools. MaintMaster's CMMS is for maintenance experts, by maintenance experts. And while you can customise it to fit your exact needs, you can get started quickly with best practices and the maintenance standard in mind.