Innovations in manufacturing are rapidly growing. Sadly, that's not the case for maintenance. Many maintenance departments are stuck in the past. And San Giliyana, an Industrial PhD student at Mälardalens Industrial Technology Center (MITC), is determined to find the best way for the future of maintenance.
MITC is a collaboration platform working with production development projects with partners (Volvo CE, Volvo GTO, Alfa Laval, GKN and others) and supporting research and education with industry cases. It has a lab in Eskilstuna of 2000 sqm with testbeds for industry 4.0 technologies and event arenas.
In his studies, he's created a test factory to find the best combination of modern technologies to improve and future-proof maintenance processes and operations. MaintMaster jumped on the chance to be a part of this groundbreaking research.
Boosting traditional maintenance
With years of experience working as a maintenance engineer at Volvo, San started to see the limitations of traditional maintenance. For example, he states that machine manufacturers recommend when to replace spare parts. And for a filter, this replacement recommendation can be every six months.
The technicians dismantle the machine and realise that the filter is brand new. Is it a clever plan to sell more spare parts? Who knows. Either way, because they've already started their job, they replace the spare part anyway – completely unnecessarily.
Smart maintenance is different.
Instead of wasting time and money on changing perfectly fine parts, smart maintenance lets you know when it's actually time for a replacement. The data you collect and analyse automatically lets you listen in on your machines like traditional maintenance can't.
For example, MaintMaster's IoT sensors monitor air pressure, temperature, vibrations, and relative humidity on all your assets. The reports give you trends that help you better understand your machines and spare parts.
With greater understanding comes better decision-making. And other than cost-savings on unnecessary spare parts and work comes a better work environment. Everyone, from operators and technicians to leadership, monitors their machines better.
The sensors directly connect to the computerised maintenance management system (CMMS), which is crucial for modern manufacturers who value efficiency.
Smart maintenance doesn't mean replacing traditional maintenance. It means using new technologies to improve it.
And despite a worldwide worry about artificial intelligence stealing maintenance jobs, San isn't concerned, "AI won't steal your job, but a person using AI will."
The MITC research
As a part of San's studies on smart maintenance, he surveyed more than fifty manufacturers, big and small. Then he realised there was a massive gap between science and industry. He also noticed a great gap in smart technology knowledge.
To help spread this knowledge, he and his team developed a testing ground on MITC. In the small-scale factory, they used different technologies like AI and augmented reality (AR) to help shape the future of maintenance and see what's possible.
Their team collects maintenance data, makes data-driven decisions with AI, uses IoT for machine connectivity, and uses MaintMaster to gather it all.
One example of a new technology we will see a lot of in the future is augmented reality. San and his team have tested new types of glasses with maintenance instructions.
So when a machine breaks, MaintMaster automatically creates a job and sends the instructions to these glasses. The technician can then put the glasses on and see where the problem is with detailed instructions on how to solve it.
Why MaintMaster is future-proof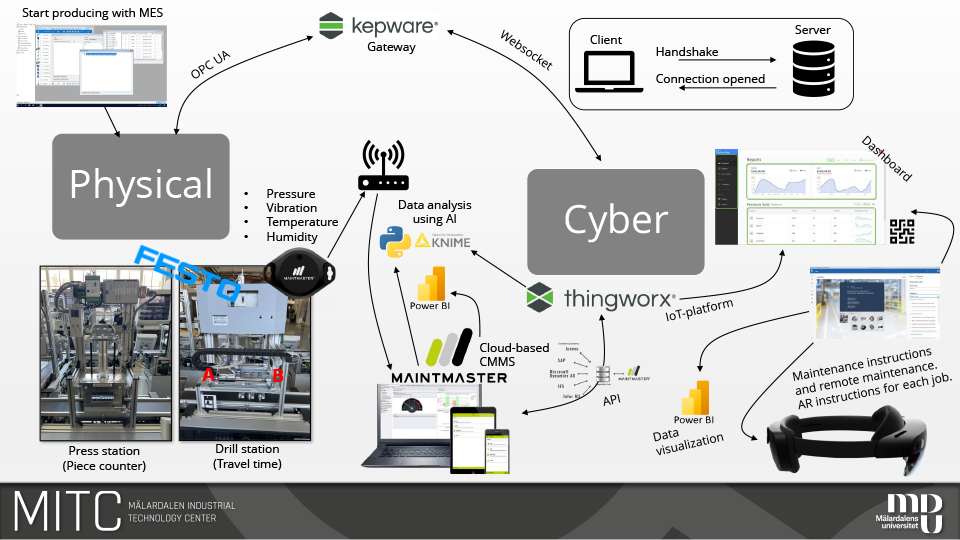 The power of MaintMaster, says San, is its ability to integrate with different technologies. And in a modern maintenance organisation, great connectivity is key. And it has to be simple.
"When working with new technologies, you use a wide variety of systems. It's important that the systems can communicate with each other, otherwise you'll have to manage each one individually, which quickly turns into chaos. It's been zero problems connecting MaintMaster to our IoT platform, augmented reality, and robots."
Functionally, MaintMaster is very versatile, San adds. With many companies involved in the research, he also values that MaintMaster never joined the project to push their systems – they've handled everything professionally.
Summary
San is thankful for MaintMaster's contribution to sponsoring science and industry development. He states it says a lot about a company when they want to contribute to the future of maintenance and has been thoroughly impressed.
He's thrilled that MaintMaster sponsored this important research with a maintenance system. He believes it's critical that the system is cloud-based and has been excited to show industry leaders the new generation of maintenance systems.
"MaintMaster also sponsored us with IoT sensors and competency from one of their project managers to integrate MaintMaster with our systems. It's been a fantastic collaboration. And we've shown how MaintMaster's can integrate with future technologies for over two hundred maintenance leaders."
As a result, MaintMaster's system and IoT sensors are the foundation of the research they conduct at MITC. Together with other companies, it's a win-win. Together, all companies, including MaintMaster, can participate in the research, and San and his team can continue to find ways to improve maintenance for companies worldwide.
San and his team at MITC aim to complete their research by 2025. To stay updated, visit the MITC website.