Chapter 6
Automotive Industry
IATF 16949
Quality Management Systems for the Automotive Industry Certifications and audits are critical to ensuring the quality and reliability of products and services offered by organisations. In the automotive industry, where product safety and reliability are paramount, a robust quality management system is essential.

This is where IATF 16949 comes in. IATF 16949 is an international standard that provides a framework for a quality management system designed specifically for the automotive industry. It provides guidelines for organisations to effectively manage and monitor the quality of their products and services, helping to ensure that they meet the highest standards of safety and reliability.
Maintenance management
Effective maintenance management is a key factor in the success of production processes. It involves the creation of a maintenance plan, the establishment of well-defined maintenance procedures and the definition of clear fault reporting procedures. A well-executed maintenance strategy ensures that equipment and facilities are properly maintained, minimising the risk of equipment failure and unplanned downtime.

Maintenance procedures specify the steps required to maintain equipment and facilities, including schedules, specific actions and responsibilities. A clear malfunction reporting process allows for quick and efficient reporting and documentation of malfunctions or failures, ensuring that problems are addressed and resolved quickly. Implementing a comprehensive maintenance management programme can improve the performance and reliability of production processes, reducing costs and increasing overall profitability.
How MaintMaster will help
MaintMaster CMMS provides a comprehensive solution for implementing and managing maintenance processes and strategies. Its capabilities allow organisations to define and incorporate their maintenance plans and procedures directly into the system, ensuring consistency and effectiveness in their maintenance activities. The system also provides real-time access to all relevant information, enabling informed decision making and analysis.

MaintMaster streamlines the fault reporting process, enabling companies to document and manage equipment issues in a timely manner. By using this CMMS for maintenance management, companies can increase the efficiency and reliability of their production processes, minimise downtime and optimise their maintenance efforts. If you're looking to improve your maintenance processes or enhance your fault reporting procedures, MaintMaster is the ideal solution for you.
Total Productive Maintenance (

TPM)
Involve operational staff in TPM reporting processes to ensure their active participation and contribution to maintenance improvement. This will help raise their awareness of the importance of maintenance, promote teamwork and create a culture of continuous improvement. The involvement of operational staff will also provide valuable insight into equipment performance and reliability, enabling more effective and proactive maintenance strategies to be implemented.
How MaintMaster will help
Empower your production staff by giving them access to MaintMaster. This allows them to view the current status of the machines they operate and even assign simple maintenance tasks to them. By involving your production staff in the maintenance process, you can improve collaboration, increase efficiency and create a culture of continuous improvement. MaintMaster provides a platform for seamless communication and collaboration between all parties involved, ensuring that maintenance activities are carried out effectively and efficiently.
Specific KPI
Setting specific Key Performance Indicators (KPIs) is an important step in improving the efficiency and reliability of maintenance processes. Two common KPIs in the maintenance industry are MTBF (mean time between failures) and MTTR (mean time to restoration), which help measure the performance of maintenance activities and identify areas for improvement.

Additionally, companies can also specify their own important KPIs to align with their unique goals and objectives. By regularly monitoring and analyzing these KPIs, companies can make data-driven decisions and continuously improve their maintenance processes.
How MaintMaster will help
MaintMaster is equipped with the necessary Key Performance Indicators (KPIs) to meet the requirements of IATF 16949, provided the necessary data is accurately entered into the system. This includes key KPIs such as MTBF (mean time between failures) and MTTR (mean time to restoration). By efficiently tracking and reporting on these KPIs through MaintMaster, organisations can gain valuable insight into their maintenance operations and quickly identify areas for improvement. With proper data input, MaintMaster can deliver accurate KPI results in a timely manner, allowing organisations to stay ahead of the competition and continuously improve their operations.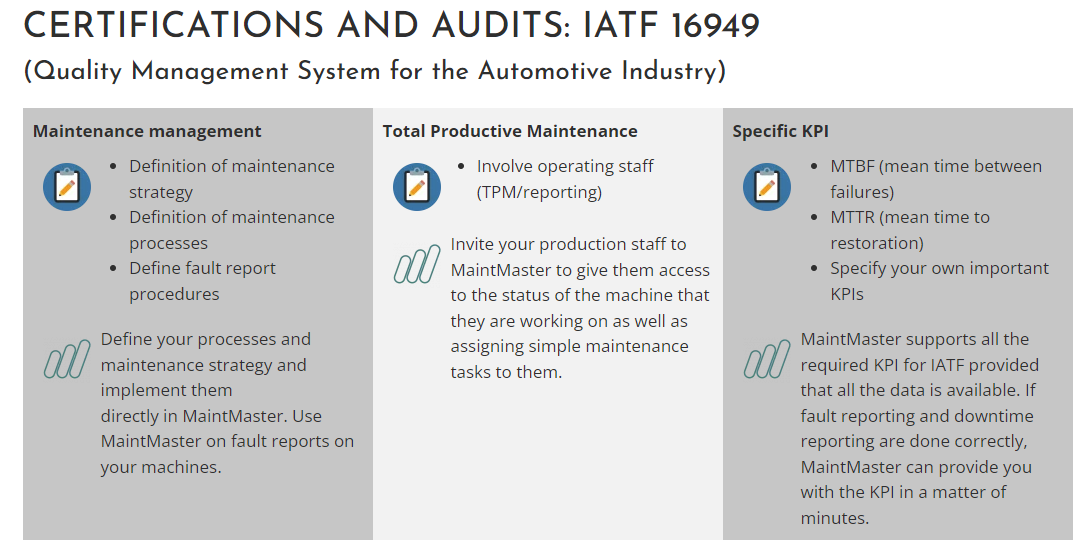 Download the Audit Handbook