Chapter 7
Food Industry
FSC & BRC Audit
FSC and BRC are two of the most widely recognised and respected certifications in the international food industry. FSC (Forest Stewardship Council) certification ensures that products come from responsibly managed forests and other controlled sources. The BRC (British Retail Consortium) Standard for Food Safety is a globally recognised standard for food safety and quality, covering the entire supply chain from raw materials to finished product.
Maintenance management
Effective maintenance management is critical to the success of any production process. It involves defining a comprehensive maintenance strategy that outlines the steps necessary to properly maintain equipment and facilities. This includes establishing schedules, procedures and responsibilities for each maintenance task. In addition, a well-defined trouble-shooting procedure is critical to quickly address and resolve any malfunctions or failures.

A clear and effective maintenance strategy, together with defined processes and fault reporting procedures, is key to reducing the risk of equipment failure and unplanned downtime. It helps to optimise the performance and reliability of production processes, ultimately reducing costs and improving the bottom line. By implementing a comprehensive maintenance management programme, companies can ensure that their equipment and facilities are properly maintained and that they are able to quickly and effectively resolve any problems that may arise.
How MaintMaster will help
By implementing your processes and maintenance strategy in MaintMaster, you can ensure that all maintenance activities are carried out consistently and effectively. MaintMaster provides a streamlined process for fault reporting, allowing you to document and manage problems with your machinery in real time.

This ensures that all relevant information is readily available for decision making and analysis, improving the efficiency and reliability of your production processes. Using MaintMaster for maintenance management can help reduce downtime and optimise your maintenance activities, leading to cost savings and improved bottom line results.

Whether you're looking to optimise your maintenance processes or streamline your fault reporting procedures, MaintMaster is the solution you need to achieve your goals.
Document Management
Effective document management is critical to the smooth and efficient running of an organisation. It provides staff and stakeholders with quick access to the information they need and establishes a clear process for revising and updating key documents.

An effective document approval procedure provides a clear, streamlined process for reviewing, approving and implementing changes to key documents, ensuring that the most up-to-date information is available and reducing the risk of confusion or error.

A revision history is also essential to effective document management. It tracks all changes made to a document, including who made the changes and when. This enables easy auditing and provides a complete history of the document, ensuring that previous versions are always available for reference. By streamlining document management processes, organisations can save time and resources while ensuring that all stakeholders have access to up-to-date information.
How MaintMaster will help
MaintMaster's document management system provides a secure and efficient solution for storing and managing important information. By storing documents as objects, users can ensure that all relevant information is easily accessible and organised in a way that makes sense for their organisation.

With MaintMaster, users can create revisions of documents that are linked to specific jobs, allowing them to track the evolution of their information over time. This helps to ensure that all stakeholders have access to the most up-to-date information, while also providing a complete history of each document.

To further streamline the document management process, MaintMaster allows users to set up approval structures for each document. This provides a clear and straightforward process for reviewing and approving changes to key information, reducing the risk of confusion or error and ensuring that all stakeholders have access to the most up-to-date information.
Calibration Management
Calibration management is an essential aspect of maintenance and quality control in any industry. To ensure that equipment and machinery are operating at optimum levels, it is important to have a systematic and organised approach to managing calibrations. This includes having clear calibration procedures, accurate calibration records and up-to-date calibration certificates.

Having a set of defined calibration standards also helps to ensure consistency and quality in the calibration process. In addition, clear archiving protocols for calibration data ensure that historical records are easily accessible and can be used for future reference. In this way, effective calibration management helps organisations maintain the reliability and accuracy of their equipment and continuously improve the efficiency and effectiveness of their operations.
How MaintMaster will help
MaintMaster allows you to keep track of your gauges as objects within the system. This ensures that all relevant information is easily accessible and available for analysis. To ensure accurate calibration, MaintMaster allows you to set up recurring and corrective jobs for each piece of equipment. This ensures that calibration tasks are carried out consistently and effectively, and that all necessary information, including calibration instructions, records, certificates, standards and archiving protocols, is readily available. By using MaintMaster for calibration management, you can improve the accuracy of your measurements and optimise the performance of your equipment.
Occupational Safety
Occupational safety is a critical aspect of any organisation, helping to ensure the well-being and protection of employees, equipment and the environment. A comprehensive health and safety plan should include risk analyses and hazard assessments of property and equipment, regular monitoring of incidents and accidents, and the establishment of clear targets for improvement. In addition, a robust reporting structure should be in place to track progress and identify areas for improvement.

To manage health and safety effectively, it is important to identify the skills required by those responsible for implementing safety measures and conducting root cause analysis. This will help to ensure that your organisation has the necessary expertise and knowledge to effectively address safety concerns and implement necessary improvements. By taking a proactive approach to occupational safety, organisations can improve their overall safety culture, reduce incidents and accidents, and create a safer working environment for all employees.
How MaintMaster will help
By categorising workplace accidents in MaintMaster according to a specific job category, you can gain valuable insight into the factors that contribute to workplace safety risks. This information can be used to identify the assets or shifts that are most prone to accidents, allowing you to focus your efforts on addressing the root causes of these incidents. Regular reporting allows you to track improvements and monitor progress towards your safety goals, providing a structured framework for continuous improvement in workplace safety.
Calibration Management
The calibration management process is a critical aspect of ensuring the quality and reliability of your products and operations. It involves the identification of critical control points, i.e. points in the process that are critical to the quality of the final product or service. This includes the identification of limits that define the acceptable range for each control point.

It is also important to review maintenance activities and assess their impact on control points. This helps to ensure that maintenance activities do not adversely affect the quality of the final product or service. In addition, it is important to review the materials used in maintenance for potential impact on control points, as these materials can have a significant impact on the final product or service.

By following these steps and procedures, organisations can ensure that they have a robust calibration management process in place to help ensure the quality of their products and services, while providing a framework for continuous improvement.
How MaintMaster will help
MaintMaster enables organisations to effectively manage and monitor their calibration activities with a focus on maintaining the safety of their products. This is achieved by identifying critical control points and limits, and reviewing maintenance activities and their potential impact on these control points.

MaintMaster provides the tools necessary to check materials used in maintenance for any potential impact on control points, helping organisations to maintain the safety and quality of their products. By defining items, parts and materials that pose a risk of contamination, organisations can create follow-up tasks and procedures to ensure food safety and maintain product quality. This ensures that organisations have the information and tools they need to ensure that their calibration processes are effective and meet all necessary requirements.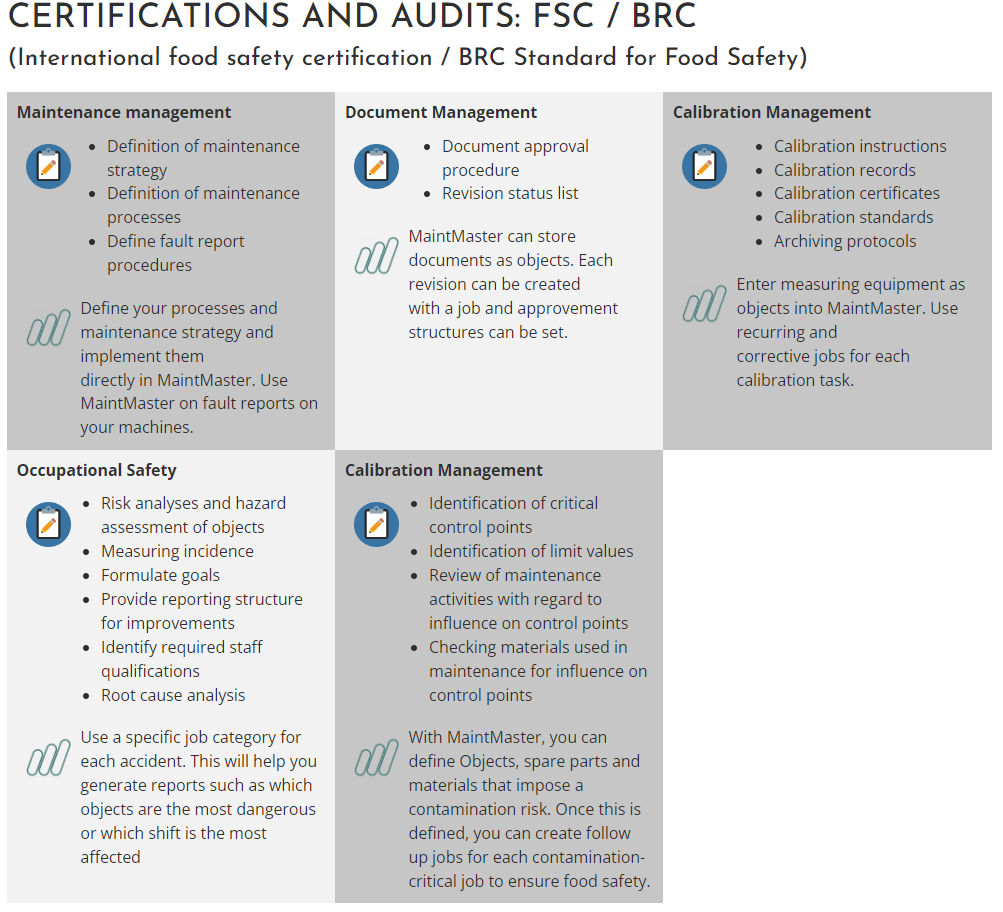 Download the Audit Handbook