Chapter 10
IMplementation

IN MAINtmaster

Implementing maintenance according to EN 13306 in MaintMaster CMMS allows organisations to efficiently manage and organize their maintenance activities. The system provides tools for identifying and prioritizing maintenance tasks, optimising the use of resources, and improving the efficiency and effectiveness of maintenance operations.

By using MaintMaster CMMS to follow best practices outlined in EN 13306, organisations can ensure that their maintenance efforts are aligned with their organisational goals and lead to long-term success.
Why is a Maintenance System Necessary?
Maintenance management and planning requires a systematic approach. Information that can be gathered by a maintenance system provides invaluable support in the planning and execution of all types of maintenance activities as well as helping to ensure operational reliability. Regardless of strategy, there is always a need for some kind of preventive maintenance, and for this to work, documentation, planning and monitoring are necessary to ensure a return on investments. A maintenance system is also the hub for all of the information a maintenance engineer or planner needs. What has been done so far; what spare parts are suitable; have we performed inspections as per procedures; what deviations have we identified?
It's very easy in MaintMaster to customize work categories and codes according to standard EN 13306. This enables proper analysis and provides useful decision-support data.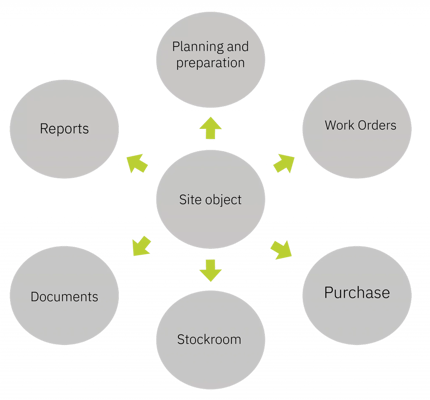 MAINTENANCE ACCORDING TO EUROPEAN STANDARD
Conducting proper analyses requires everyone to talk and report in the same way and that they understand the different ideas the maintenance terminology conveys. Accordingly, the categories have been adapted to comply with European standard EN 13306 Maintenance Terminology, which clearly states what the various maintenance terms mean.
EXAMPLE OF WORK CATEGORIES, COMPLETION GROUPS AND CODES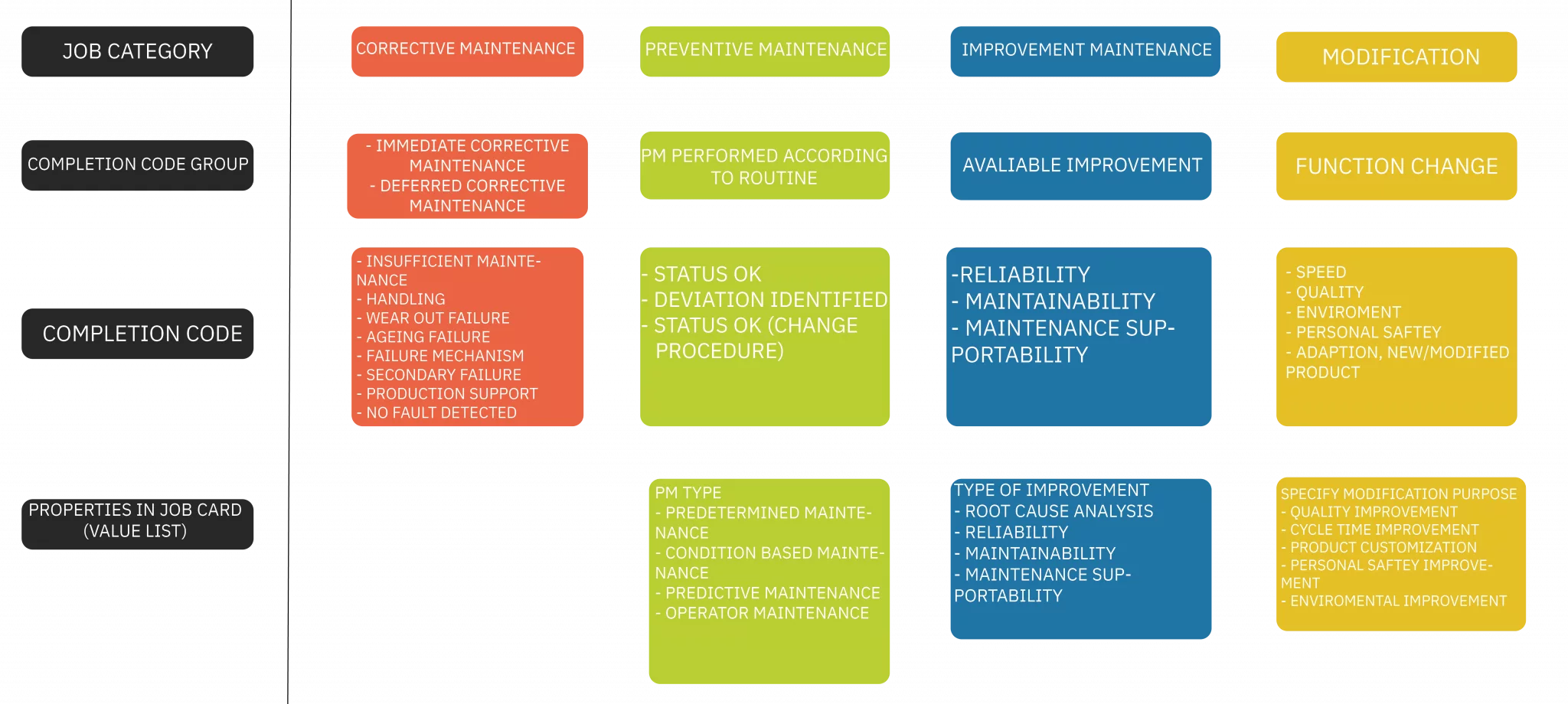 WORK ORDER FLOW - EXAMPLE
Fault Reports
For fault reports, call maintenance immediately, who will respond as per applicable procedures. The reporting person then creates a fault report in the maintenance system. The order is then sent to the relevant area manager for further processing. Recipients of fault reports must always ask the reporting person if a fault report has been registered in the maintenance system. In cases where the reporting person cannot confirm or is unsure, the responsible technician or supervisor must assist in processing the fault report. This may be done retroactively once the fault concerned is remedied, but in principle the work should only be performed in exceptional cases if an order has not been created in the CMMS (maintenance system).
Recipient of the Fault Report
The supervisor for the line, area or equipment concerned is responsible for ensuring that planning, execution and completion of the work is accomplished.
Completition of Work Order
Once the maintenance actions are complete, the work must be reported immediately stating the time taken and a simple analysis of the action taken to remedy the problem. In the event of emergency measures under the work category immediate corrective maintenance, also indicate the length of the downtime the fault in question has caused, before the job is completed in the maintenance system.
Ordering of Non-Emergency Measure
The job category Improvement is used in the same way as above, with the difference that it's only used for ordering non-emergency jobs, such as suggestions for improvements and other work orders..
Completion cODE gROUPS fOR cORRECTIVE mAINTEANCE
Completion code group:
Immediate Corrective Maintenance
Maintenance performed immediately after a defect has been detected in order to avoid unacceptable consequences.
The machine is down, fix now! Downtime must always be specified following termination with this completion code group.


Completion code group:
Deferred Corrective Maintenance
Corrective maintenance which is not immediately carried out after a fault detection but is delayed in accordance with given rules.
The machinery works, but not very well. The job can be scheduled for later.


Endeavor to move actions from Immediate to Deferred. Initially, this is the quickest way of achieving higher operational reliability and more efficient maintenance.
COMPLETION CODES & COMPLETION CODE GROUPS IMMEDIATE AND
DEFERRED CORRECTIVE MAINTENANCE
The completion code is used in this example to show the cause of a fault
Insufficient maintenance
Fault caused by improper or unsuccessful maintenance
Incorrectoperation
Failure caused by improper handling of equipment or machine
Wear-out-failure
Failure whose probability of occurrence increases with the operating time or the number of operations of the item or applied stressed
Aeging failure
Failure whose probability of occurrence increases with the passage of time. This time is independent of the operating time of the item
Failure machanism
Physical, chemical or other processes which lead or have led to failure
Secondary failure
Failure of an item caused either directly or indirectly by a failure or a fault of another item
Production support
Used for reporting of non-maintenance-related actions, such as assistance in machine adjustments or parameter settings
No fault detected
Can be used when you have not found any root cause. For example, in event of slippage contact or when the machine starts normally
after resetting it
COMPLETION CODES & COMPLETION CODE GROUPS IMMEDIATE AND
DEFERRED CORRECTIVE MAINTENANCE
Completion code group:
Preventive Maintenance according to procedure
All existing maintenance activities for preventive maintenance are terminated with a single completion code group; Preventive maintenance according to procedure.
The completion code is used here to monitor how well preventive maintenance is working.
Status OK
The equipment is in good condition and approved for continued use.
Deviation identified
Equipment or component does not correspond to the standard or does not maintain satisfactory performance. Follow up with actions by creating a follow-up job.
Status OK (change procedure)
The equipment is in good condition and approved for continued use, but the procedure or intervals need to be adjusted in the original job/template.
CHARACTERISTICS FOR PREVENTIVE MAINTENANCE
Start with creating a new property to your job category Preventive Maintenance. It should contain a value list using the different types of Preventive maintenance below. Now it's really easy to create a recurrent preventive job of any type.
IMPLEMENTATION IN MAINTMASTER
Create a property in MaintMaster with the name, Type of PM-measure. Add the following captions as values to your list.
Predetermined maintenance
Preventive maintenance performed at specified intervals or following a specific application, but without prior condition monitoring
Condition-based maintenance
Preventive maintenance consisting of the control and monitoring of the condition of a unit in terms of its performance and characteristics.
Predictive Maintenance
Maintenance measure following condition-based maintenance, when predicting a unit's impaired function is based on the analysis and evaluation of key characteristics
Autonomous maintenance
Maintenance that is performed by the user or operator of the machine
IMPROVEMENT MAINTENANCE
Completion code group and property
Completion code group: Improvement
Create a property containing a value list representing the three captions below. This is to define the type of Improvement performed.
Reliability
Ability of a unit to perform the required function under given conditions within a specified time frame.
Maintainability
The ability of a unit, when used under given conditions, to be maintained or restored such that it is able to perform the required function once the maintenance has been performed under given conditions and under established procedures and resources.
Maintenance Supportability
The ability of the maintenance organization to provide the appropriate maintenance resources to the required location, to perform the required maintenance on a unit at the specified time or within a specified time frame.
MODIFICATION
Completion code group and property
Completion code group: Modification
Createa a property containing a value list representing the five captions below. This is to define the type of Modification performed.
Quality
For reporting an action where the purpose is or was to improve the quality output from a machine or equipment.
Speed
For reporting on an action where the purpose is or was to improve the speed or cycle time of a machine or equipment.
Product modification
Used to report an adaption or adjustment of an equipment aimed at producing a new product or packaging.
Personal safety
Used to report cases where the purpose is to improve personal safety. Including activities for ergonomic improvements.
Environment
For reporting environmental improvement issues.