Chapter 13
SPare Parts

Management
Spare parts management is about, how spare parts handling must be systematized and structured to enable efficient inventory management that leads to improved availability and reduces the amount of capital expenditure.
Maintenance often results in some form of material consumption. A breakdown often entails major problems that can be further aggravated if no spare parts are available.
Without spare parts, there is a risk of downtime, which may lower the quality of goods produced, cause environmentally hazardous emissions and create a hazard to staff. This usually leads to the accumulation of an excessive amount of spare parts, which often leads to large amounts of capital expenditure. It could also be that it is difficult to plan spare parts consumption as it is subject to varying demand. Therefore it is important to have a good spare parts inventory system in place. This reduces the production downtime and simplifies equipment maintenance. The goal of spare parts management is to ensure the lowest overall cost possible.
The total cost includes inventory, administration and various forms of shortage costs.
Spare Parts Management Pyramid
The pyramid shows the various aspects of spare parts management: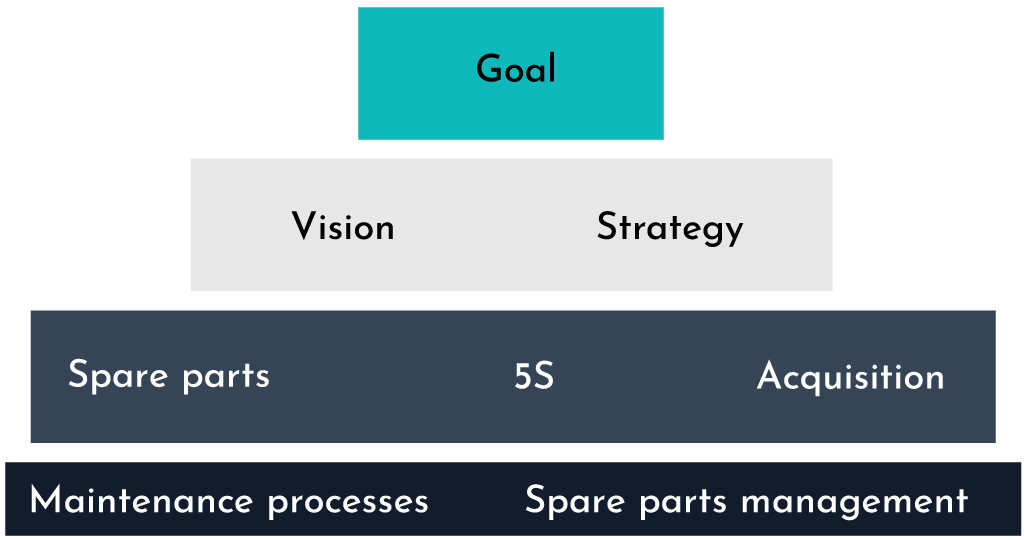 Example Spare Parts Management
Vision
The selected methods, systems and all employees must work together to achieve a cost-effective spare parts inventory.
We have clear, tangible KPIs that reflect how well we are implementing working methods and costsavings in the stockroom.
Spare parts management is a strong contributory factor to improved availability in production.
We work in a structured way to ensure good order in all of our stockrooms, where the labeling of items is also clear and functional.
Strategy
Our spare parts strategy is based on guaranteed access to the right spare parts at the right time, not all spare parts always.
Items are recorded and linked to objects in the maintenance system by the technicians. The withdrawal of consumables and insurance spares are each recorded with a direct link to the job in the maintenance system.
In order to optimize storage we work with requirements assessment and classification of items to determine whether spare parts should be stored or acquired when the need arises.


Objectives & KPI for Spare Parts Management
The objective of spare parts management is to ensure the lowest overall cost of spare parts possible without compromising availability.
A high level of availability requires spare parts to be available or for the delivery time to be as short as possible. In cases where faults still arise, it's necessary to identify and correct them as soon as possible. The overall cost includes costs for warehousing, administration and various types of shortages.
Some examples of KPIs used to measure spare parts management include:
Stock value and quantity
Number of emergency orders
Value of scrapped material
Overall cost (warehousing costs + shortage costs)
Downtime (due to lack of spare parts)
Warehousing costs
Turnover rate (excluding insurance spare parts)
ASSESSING THE NEED FOR SPARE PARTS
Maintenance activities often entail the need for replacement part availability in the warehouse. Accordingly, it's advisable to stock selected spare parts to avoid unnecessary production downtime caused by long lead times. Items are registered and linked to objects to shorten lead times when ordering. For recurring maintenance activities, such as predetermined maintenance, spare parts should be ordered for the scheduled activity instead of keeping them in stock. Costs for stock held should be weighed against costs incurred by their lack, but there are several other factors that must be considered in an accurate needs assessment.
Examples of data for needs assessments:
Consumption statistics
Supplier collaboration
Commitment from maintenance technicians and management
Classification of spare parts
CLASSIFICATION OF SPARE PARTS
To facilitate efforts to optimize inventory, items are divided into the following categories:
Consumable materials
Items that cannot be regarded as spare parts and can have a high rate of consumption or low value.
Consumable spare parts
Standard items such as sensors, cylinders and valves that can be used on multiple types of equipment; they are
often of low value and have short lead times.
Insurance spare parts
Spare parts stocked to avoid long and costly shutdowns. These can be expensive and often have long lead times
SPARE PART PREPARATION AND REGISTRATION
The process chart below shows the responsibilities and procedures for the registration and purchase of spare parts under normal conditions. The technician responsible for preparation is also responsible for ensuring the preparation of spare parts for the line or equipment within the designated area of responsibility Support for this work may be requested from maintenance management.

EMERGENCY SPARE PARTS NEEDS (ITEMS NOT STOCKED)
The process chart below shows the allocation of responsibilities and procedures for the registration and purchase of spare parts in an emergency situation. Responsibility for an emergency purchase lies with maintenance management or the department manager, while fact compilation and ordering is delegated to maintenance technicians who can request support from maintenance management.